Power Factor Correction Equipment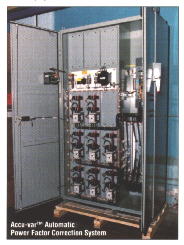 Aut

omatic Capacitors

Automatic Power Factor Correction systems are designed to automatically turn power factor correction capacitors on or off to maintain a desired target power factor under varying load conditions on the low voltage distribution systems of a facility. These work well in today's modern environment where many motors operate on variable speed drives inappropriate for fixed capacitors. NRG sells and installs the GE/Ultravar line of Automatic Capacitors, each designed to minimize installation time and cost and with the following features:
Air core inductors to reduce capacitor inrush current.
Microprocessor-base controllers to measure the active and reactive currents and calculate power factor.
Switching time delay and loss-of-voltage dropout features.
200,000 AIC-rated current-limiting fuses.
State-of-the-art, low-loss, self-clearing three-phase capacitors.
GE/Ultravar Accu-Var Jr.
The smallest of our units, the Accu-Var Jr. provides an inexpensive solution to Power Factor issues for smaller sized operations. It is rated to 120 KVAR maximum at 240 volts and 300 KVAR maximum at 480 and 600 volts.
GE/Ultravar Accu-Var Plus
For mid-sized operations, the Accu-Var plus is practical and economical. Easily installed and maintained, it is rated to 300 KVAR maximum at 240 volts and 600 KVAR maximum at 480 and 600 volts.
GE/Ultravar Demand Line Plus
The Demand Line Plus is designed for systems that require large KVAR ratings with and without harmonic suppression reactors. It is readily adapted to meet specific requirements and can be easily expanded. It can be installed or retrofitted with harmonic suppression filters. The Demand Line Plus is rated at 300 KVAR with no upward limits.
View Power Factor Correction Products or Contact Us
Home | Services | Products & Equipment | About Us | Links | Contact Us | Email Us
---
Copyright © 2000, NRG, Inc.