Infrared Cameras and Software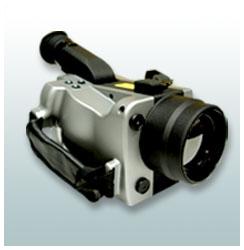 DuraCam Infrared Camera
High Functionality and Flexibility in an Ultra Durable Handheld Thermal Imaging System

The DuraCam portable infrared camera offers outstanding image quality and radiometric temperature measurement performance in a rugged and easy to use handheld enclosure.
This highly flexible infrared camera solution offers 320 x 240 resolution with unmatched image quality. The camera equips the infrared professional with up to 10 movable measurement points and 5 area boxes with tracking cursors. The temperature measurement range extends from -4 to 2192 F. Voice annotation is possible for 40 seconds per image. Its lithium-Ion battery provides a full 3-hours of operation. ICIReporter software provides quick accessibility to a full range of tools for analyzing DuraCam images.
DuraCam Infrared Camera Highlights:
Auto and electronic focus
Built-in digital camera
High-definition image
Laser pointer
Auto measurement adjustment tracking
Hotspot, coolspot, or average temperature tracking
Flexible output: VGA, PAL, NTSC or USB
0.5x wide angle, 2x & 3x available
Removable CF & 256M Flash Memory
ToughCam Applications:

The DuraCam's wide range of quality features and handheld durability makes it an ideal camera for a wide range of applications. The DuraCam is the perfect match for the busy infrared consultant who offers a wide range of services. Applications could include reliability engineering, predictive & preventative maintenance (electrical and mechanical), process control, measuring temperature trends and more.
View Infrared Cameras & Software or Contact Us
Home | Services | Products & Equipment | About Us | Links | Contact Us | Email Us
---
Copyright © 2000, NRG, Inc.