Power Factor Correction Equipment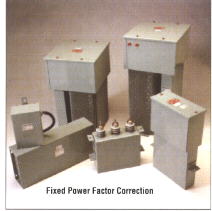 Fixed Capacitors
Power Factor Correction capacitors increase the Power Factor by compensating for inductive electrical equipment loads. A Fixed Capacitor, in most modern applications, is a point-of-use device for larger horsepower motors that do not have a variable speed drive. They are designed to be installed on the load side of the contactor so that the capacitor turns on and off with the motor. Because the running load of a facility is generally only a percentage of the entire connected load, installing a fixed capacitor on every motor means that some capacitors will be running while others are idle, depending on motor usage. The most cost-effective solution is to install Fixed Capacitors, a relatively low-cost control mechanism, on higher horsepower motors and maintain the rest of the system with Automatic Capacitors.
NRG supplies and installs GE/Ultravar Fixed Capacitors - High quality capacitors that meet or exceed industry standards and have the following characteristics:
Metallized dielectric systems that reduce heat loss and operating temperatures, extending capacitor life.
Self-clearing – restores dielectric to an acceptable condition should a breakdown occur during operation.
Pressure activated circuit interrupters.
True Loss-of-KVAR feature that reduces the risk of penalty charges.
GE/Ultravar GMP Style Capacitors
Designed for small applications to be used on or near a motor, extensive field use has proven GMP capacitors will withstand today's electrical environment with a continuous duty life expectancy of 20 years. It is an extremely economical product for an environment requiring a capacitor with a rating of 30 KVAR maximum at 240 volts or 60 KVAR maximum at 480 or 600 volts.
GE/Ultravar ICS Style Capacitors
These heavy-duty power factor correction assemblies are industrial rated, metallized electrode, rack mounted premium grade capacitors. The ICS capacitor is rated for 180 KVAR maximum at 240 volts or 600 KVAR maximum at 480 and 600 volts.
GE/Ultravar ICC Style Capacitors
This 3-phase, 60 Hz, single or multiple unit assembly design is for use in plants where the operation of heavy inductive loads and correction is on the high voltage side of the system. It employs an all-film dielectric system reducing physical size and watt loss. It is rated to 25-900 KVAR maximum at 2400, 4160 and 4800 volts.
View Power Factor Correction Products or Contact Us
Home | Services | Products & Equipment | About Us | Links | Contact Us | Email Us
---
Copyright © 2000, NRG, Inc.