Power Factor Correction Equipment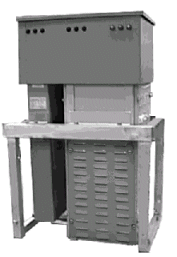 Harmonic Suppression Capacitors
Many of today's power systems require modern solutions to Power Factor Correction. Variable speed drives, uninterruptible power supplies and other solid state controls or devices add nonlinear components into linear systems. Application of Power Factor Correction capacitor systems can increase harmonic voltage and current unless the capacitors are properly applied with reactors that suppress harmful harmonics. Installation of these systems is application specific. NRG has over 20 years of experience in this industry and can assist you in the design and installation of these GE/Ultravar systems.
GE/Ultravar HSICS – Fixed Capacitor with Harmonic Suppression
This fixed capacitor is rated at 50 KVAR maximum at 240 volts to 200 KVAR maximum at 480 and 600 volts. Designed for use on systems with non-linear components, it can be tuned to any desired frequency, but is normally tuned to the fifth harmonic.
GE/Ultravar Demand Line Plus – Automatic Capacitor with Harmonic Suppression
The Demand Line Plus provides total flexibility in achieving maximum automatic power factor correction. The 3-phase harmonic suppression reactors are application-specific. Designed for systems with large KVAR ratings, it is rated to 300 KVAR maximum at 240 volts and 600 KVAR maximum at 480 and 600 volts.
View Power Factor Correction Products or Contact Us

Home

| Services | Products & Equipment | About Us | Links | Contact Us | Email Us
---
Copyright © 2000, NRG, Inc.