Electrical Testing Equipment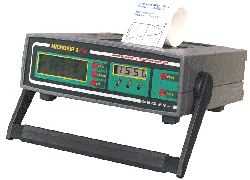 Microvip 3 Plus Power & Harmonic Analyzer
ELCONTROL Energy's Microvip 3 Power & Harmonic Analyzer is a compact but powerful portable Power & Harmonics Analyser for both single-phase and three-phase systems.
The crisp high-contrast backlit LCD displays True-RMS values for up to 33 parameters, while the large 1MB on-board memory allows data storage over extended survey periods including waveform capture for current and voltage.
The on-board, programmable 42 columns graphic printer adds visualization of additional 156 parameters of data including V&I harmonics to 24th order with both DC component and displacement factor, and waveform/harmonic bar chart printout with manual or time-based printout.
The integrated high-speed RS232 serial port and the included PC software Microwin add further power to MICROVIP3 PLUS, allowing full graphical display and analysis of all measurement data, both with real-time connection or by downloading the internal memory. Clear, graphical reports have never been easier to produce!
Key Benefits:
AC and DC Measurements
Built-in printer for measurements and graphs
Integrated Harmonic Analysis up to the 24th order
Integrated 1Mb Flash Memory
Rs232 port for PC connection
Windows software included
Cogeneration (4-Quadrant) energy counter
High accuracy (class 1,0)
Mains or Battery operation
Purpose and Use:
The MICROVIP3 PLUS is intended for use by electrical power users who need to obtain an in-depth knowledge of their plants and systems. It is also extremely useful for plant engineers, installers, maintenance engineers and electricians in fault diagnosis and in the adjustment and repair of active electrical plant.

The MICROVIP3 PLUS allows to:

- Control loads and consumption
- Reduce overloads and power loss

- Check on the correct sizing of new plant entering service

- Prevent overheating and insulation problems

- Solve power factor correction problems

- Identify and eliminate load peaks and associated power problems

- Check uninterruptible power supplies with AC inputs and DC outputs

- Measure asymmetrical signals from PWM controllers
View Electrical Testing Products or Contact Us

Home

| Services | Products & Equipment | About Us | Links | Contact Us | Email Us
---
Copyright © 2000, NRG, Inc.