Infrared Cameras and Software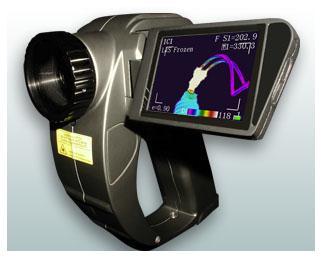 ToughCam Thermal Imaging Camera
Affordable Quality In An Easy-To-Use, Lightweight, Thermal Imaging System

The new ToughCam portable thermal imager offers outstanding image quality and radiometric temperature measurement performance in an affordable, rugged and easy to use infrared camera.
The ICI ToughCam camera is equipped with 4 movable measurement points and 3 area boxes with tracking cursers. The camera has a resolution of 160 x 120 and has a temperature measurement range of -20 to 250 C (-4 to 482 F). Voice annotation is possible for a full 40 seconds per image. Its lithium-ion battery has a 3-hour battery life per charge. Unlike many cameras in this range, the ICI ToughCam offers optional lenses to further customize the ToughCam to your application needs. ICIReporter software provides quick accessibility to a full range of tools for analyzing ToughCam images.
ToughCam Infrared Camera Highlights:
Low Cost
360 degree articulating 3.5" LCD display
Three auto hot spot trackers
Temperature measurement
40 second voice recording
Laser pointer
60Hz RCA video output
Stores over 1000 images
Optional lenses
Extended Warranty
ToughCam Applications:

The ToughCam Infrared Camera is an ideal temperature measurement tool for many applications including: reliability engineering & consulting, predictive & preventative maintenance (electrical and mechanical), process control, measuring temperature trends and more.
View Infrared Cameras & Software or Contact Us
Home | Services | Products & Equipment | About Us | Links | Contact Us | Email Us
---
Copyright © 2000, NRG, Inc.