Lightning Avoidance & Surge Protection Equipment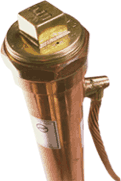 Grounding Equipment
LEC Chem Rod
In an ongoing National Fire Protection Association study, Lightning Eliminators and Consultants' Chem-Rod was found to be the best grounding electrode, as compared to all other types on the market, period.
The LEC's Chem-Rod provides a number of unique advantages for grounding: Low surge impedance as well as low resistance earth contact, one Chem-Rod is equal to about 10 standard ground rods, the 2.5" diameter of our rods is the largest in the industry making our contact with earth the most efficient of all.
This unique group of benefits will transform your grounding system into a high performance ground, costing less when installed than standard ground rods in new construction, while taking up far less land mass. Excellent for improving grounding for plasma cutting tools, instrumentation, surge protectors, motors, T&D lines and communications sites. There is just no better grounding system than Chem-Rods.
Key Benefits:
Lowest resistance.
Fewer rods needed to achieve target resistance.
Fewer square feet of land required.
Low surge impedance.
Horizontal (can be trenched in) or Vertical Models.
Available in Special Models for Cathodic Protected Systems.
New "no maintenance" models & refillable (Longer Performance Ratings) models available.
View Lightning Avoidance & Surge Protection Equipment or Contact Us

Home

| Services | Products & Equipment | About Us | Links | Contact Us | Email Us
---
Copyright © 2000, NRG, Inc.